Let's all admit it, Moms are absolutely amazing, and we don't deserve them. This Mother's Day we have gathered up some stories from Tennyson locals that prove that mothers are absolute saints. We are also offering some great gift ideas that may just make up for all of the things we've put our moms through!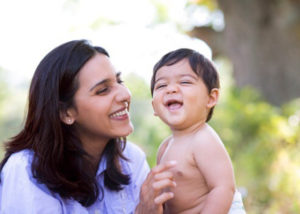 Fire Drill
"In the good ol' days, in a time before cell phones and Lyft, my sister and I wanted to take a late night walk to the local 7-11. We were in our early teens, and our mom was rightfully leery about the two of us walking around in the middle of the night. After much whining and begging, she finally gave into our request, but not before making sure we knew exactly what to do in the case of an emergency. "You can go, but what do you do if you run into trouble? I need to know that you both know what to do!" Now, we could have taken this moment to ease her fears and let her know that we did in fact know how to handle ourselves, but instead we yelled, "STOP, DROP, AND ROLL!"
Make-Up Mimosas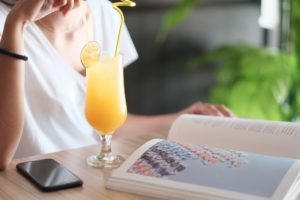 We definitely gave our mom a run for her money as teens. She's probably pretty frazzled, so this Mother's Day we want to help her relax! Luckily, the BookBar has just what we need. On Sunday, May 13th from 10 am-10 pm, the BookBar will be offering bottomless mimosas with a buy one, get one free deal! They will also be offering 20% off books about moms! We are hoping to get her a beautiful book, and to get her just buzzed enough to momentarily forget our teen years.
Lightweight Identity Theft
"Remember when everyone had AOL, except you? I certainly remember! I asked my parents if we could get AOL, and they said no. So, the next time one of those cool AOL CD's came in the mail I hid in my room and signed up for the 30 day free trial. The only problem was that I needed a credit card to activate the account. I figured that as long as I canceled the subscription before the 30 days were up, my mom would never know. With this justification firmly in my head, I stole her credit card and was introduced to the glorious freedom of the internet. I was so caught up in surfing the web that I forgot to cancel the plan. When mom saw her credit card bill the next month she immediately burst into my room, canceled the plan, and grounded me for a month."
Wash Away That Stress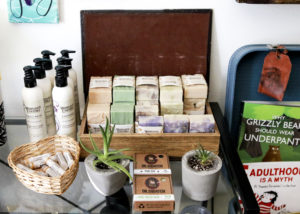 Mom was right, turns out we can all live without AOL, and we should never steal someone's identity. Lessons learned! To make it up to my mom I am going to take her to XO Gift Co. on Saturday, May 12th from 11 am - 2 pm. XO will be hosting a demonstration by Moonflower Essentials. They will be demonstrating special occasion products just for Mother's Day. I'm going to get my mom some locally made lavender lotion and soap to calm her nerves while we sip some bubbly and explore the store. Luckily, XO is offering 10% off of all purchases during the event, which means more fun stuff for my sweet mom!
Tiny Heart Attacks
"My mom is extremely jumpy, and she scares easily. Being a great child, I thought it would be fun to really scare her. She had this tiny balcony just outside her bedroom window, and one night I decided to wait out there and give her the fright of her life. She was getting ready for bed and I jumped through the balcony curtains and gave her a giant "BOO!" She screamed, grabbed the closest book, and began hitting me with it. I fell on the floor laughing, while she checked her pulse and honestly thought about disowning me. To this day, she swears that her high blood pressure is from me."
Jewelry Fixes Everything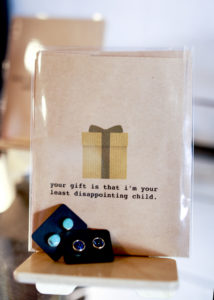 There really isn't anything I can to to make up for the permanent damage I caused, but The Yogi Exchange and Second Love are trying to help by offering sweet deals! The Yogi Exchange is offering 20% off all jewelry and cards on Friday, Saturday, and Sunday and Second Love is offering 20% off all dresses. If your mom is anything like mine, she would love some fun earrings and a cute new dress. I'm hoping that getting her the perfect gift and hilarious card will make her smile and ease some of that stress!
More Ways to Make it Up to Mom:
For the Time You Grew Weed in the Backyard - Mary Jane's Pop-Up:
Mary Jane's Medicinals is hosting a pop-up at Higher Grade on Friday May 11th, from 3pm-6pm. Swing by and pick up some product that will make your Mom's day! What better way to say "I love you, Mom" than to give her a gift for her HEALTH and well-being. Mary Jane's and Higher Grade will be offering a 0.3oz. sample of their award-winning Salve for just $1 during this event!! Don't miss out.
For all of Those "Your Mom" Jokes - Mama's Sip and Shop: Hosted by Jolly Goods
Jolly Goods is celebrating all the mamas out there. Stop by May 12th from 10am-1pm for some mimosas and sip while you shop. Get a FREE gift with purchase!
Jolly Goods has a wide selection of fun Mother's Day gifts from handmade bath & body products, tea towels, candles, cute books and some pretty funny greeting cards!
For the Time You Ruined Her Favorite Blouse - Spring Horseshoe Market: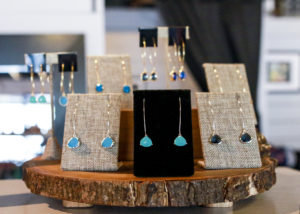 The Horseshoe Market was named Denver's Best Flea Market by the Denver Westword and will open its 9th season on Saturday, May 12th, the day before Mother's Day! The Spring Horseshoe Market will be held outdoors at 46th & Tennyson and will have 120+ local makers, artists, vintage vendors, home decor, food trucks, drinks, live music and more. FREE admission!
For the Times You Made Her Stay Up Worrying - Child and Parent Pampering Story time:
Second Star to the Right Children's Books is putting on this fun story time on Sunday, May 13th from 2-3pm at. Join them for an afternoon celebrating Mothers and all of the ways we love them! Bring your own robe or towel and then get ready for an afternoon of pampering. Soothe your eyes, paint your nails, and relax. Includes a take-home gift! $2 per person
Do you have a hilarious Mother's Day story? Please share it with us! And as always, get out and enjoy Tennyson.