Spring is finally here, and if you're anything like us, you're ready to put away your snow boots, beanie, and favorite long sleeve flannel, in exchange for your skate shoes, trucker hat, and favorite short sleeve flannel.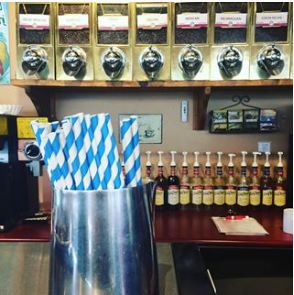 We are particularly stoked to join with Local 46 to #StopSucking and to try to make Tennyson a straw free street. The #StopSucking initative is part of Lonely Whale's global campaign to try to eliminate single-use plastic straws completely.
In America alone, we use over 500 million straws daily, and most of these straws are too lightweight to make it through the mechanical recycling sorter, so they end up in our oceans. These straws are polluting the water and harming or killing the marine life. If we keep using plastic straws there will be more plastic than fish in the oceans by the year 2050.
We understand that some people need to use a straw, and many of the businesses here on Tennyson are offering paper straws, and other alternatives, for those who may need them.
Sure, we know straws are convenient, and we all love a good spitball fight, but we love our environment more. Refusing single-use plastic straws is an easy way to support this initiative. We are happy to #StopSucking and we invite you to do the same.
Now for the fun stuff -- below are a few of the First Friday events happening on April 6th: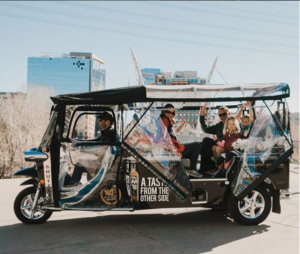 Local 46: Every month they feature a new local artist and offer wine tasting. April's artist is Lauren Larkin Art and the wine tasting will be with Grand Vin Colorado. A free event that goes from 5-7pm.
High Point Creamery Grand Opening: The Grand Opening will begin at 4 p.m. The first 50 customers to make a purchase will receive a free $10 gift card with purchase. From 4pm to 6pm they will also be offering buy-one-get-one-free ice cream.
ETuk Denver: The Tennyson Tuk Tuk will be out and running starting at 6:30pm with stops at the Elitch Carousel Dome, Hops and Pie, Biji's Little Curry Shop, Tenn Street Coffee, and Local 46. Catch a ride and enjoy the night!
de Steeg Brewery oneLINE Drawing: de Steeg Brewery will be launching a new beer label for Blind Faith Brewing that was designed by artist Jonathan Applegate. The oneLINE label can be enjoyed by both sighted and blind beer enthusiasts alike! This event is free and goes from 4-11pm and offers $2 off Blind Faith Crowlers.
Real Baby Celebrates 15 Years: Real Baby is celebrating 15 years in the community. In honor of their 15 years they are offering 15% off the entire store on First Friday. They will also be featuring Bloom Jewelry, offering refreshments, and staying open until 6pm.
Il Porcellino Salumi: In conjunction with the First Friday Artwalk, they will be offering a tasting of their House Cured Salumi and sips of wine provided by Carboy Winery from 6-9pm. Tickets are $30 and available through Facebook and Brown Paper Tickets.
Tenn Street Coffee & Books presents TAG - A Printmaking Show: The third annual Party of Five printmaking shows featuring artists Kathie Lucas, Megan O'Brien, Jeff Russell, Julie Hayward Scott, and Sasha Thackeray. All five artists work as intaglio printmakers, and this show will encompass a variety of intaglio techniques and other print and paper processes. The Artist's Reception will go from 6-9pm.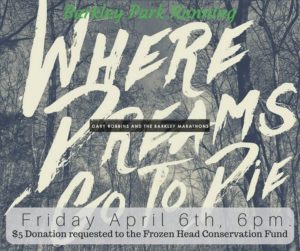 Berkeley Park Running Screening - WHERE DREAMS GO TO DIE: Ethan Nberewberry's film is about Gary Robbins and the Barkley Marathon. The evening will start off with a Barkley inspired run that takes you back to the store where you can enjoy ice cold Sufferfest Beer and Gary Robbin's favorite: cheeseburgers! $5 Donation requested for the Frozen Head State and North Shore Search and Rescue.
Whit's Frozen Custard: Whit's invites you to get together with other Denver-area Denison alumni, parents, and friends at Whit's Frozen Custard to catch up and, of course, eat custard! Join us at Whit's from 6:30-7:30 p.m.
Mas Kaos: Fort Comedy presents another After Hours Comedy show at Mas Kaos with this month's headliner, Anthony Crawford. The show will also feature local comedians, Lizzy Wolfson and James Draper. Doors at 9pm, show starts at 10. Free admission. Limited seating available
BookBar: Join the BookBar for their First Official Open Mic Night. Sign-up starts at 4:30 pm and readings start at 5:00 pm.Participants get 1/2 off beer and wine, audience gets happy hour pricing.
Thank you for supporting our unique and fun neighborhood.