Jimmy Funkhouser is the founder and owner of Feral Mountain Co., a new outdoor gear shop in Denver, CO. When he is not exploring the hinterland of Colorado he can usually be found at one of his favorite Denver watering holes, or spending time with our magnanimous shopdog Sophie.
You would have to look closely, and it's unlikely that you've noticed it. And you may not have recognized it even if it caught your attention.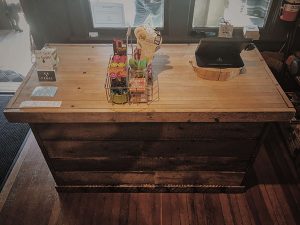 Our register counter holds a secret. A secret that's too good for us to keep to ourselves. If you look closely, you'll see that the top of our register counter looks a little unordinary. That's because it is. The fixture is made from a bowling lane from the iconic Tennyson St. alley, Elitch Lanes.
During Feral's build-out, I had a unique opportunity to get my hands on a bowling lane from Elitch, and the wheels immediately started turning. We take tremendous pride in making Tennyson St. our home, and having the opportunity to pay homage to a Tennyson business of serious historical significance was too good to pass up.
Most of our fixtures are hand-made for the space, and we designed our register counter to integrate perfectly with the bowling lane wood. If you look closely, you'll even see the dots are still intact.
When you make a purchase at Feral, you're doing it on a slab of wood that has seen as much Tennyson St. history as anything else currently on the street. As development continues, Tennyson St. artifacts continue to disappear. The opportunity to recover and display a significant one is truly an honor for us.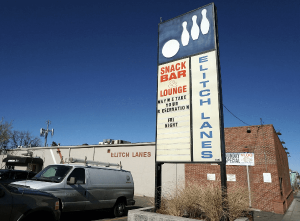 If you're new to the Berkeley neighborhood, you may not be familiar with Elitch Lanes which closed in 2015. If you've been around awhile, you remember it very well. A victim of Berkeley development, the bowling alley disappeared when a deal to relocate fell through at the last minute. Home to thousands of first dates and countless cheap nights out, Elitch was a Tennyson St. mainstay for over 60 years.
If you ever visited Elitch, you can probably still remember the cream plastic seats and the mixed smell of lane oil and cheap beer. The Pizza & Beer league was one of the best deals in town and it was hard to find a cheaper shot of Fireball in Denver.
Stop by and share your favorite Elitch Lanes story with us, we'd love to hear it. And while it was sad to watch it go, as long as Feral is around a tiny piece of the chronicled bowling alley will continue to live on.