Come and discover the unique and engaging events happening on Tennyson St in Northwest Denver's Berkeley neighborhood. Enjoy everything from concerts, first Friday Art Walks, book author events, beer tappings and don't forget Totally Tennyson!

Purple Couch Denver Presents : Goopsteppa AtYyA Edamame Dillard
October 19, 2017 @ 9:30 pm

-

October 20, 2017 @ 2:00 am
Event Navigation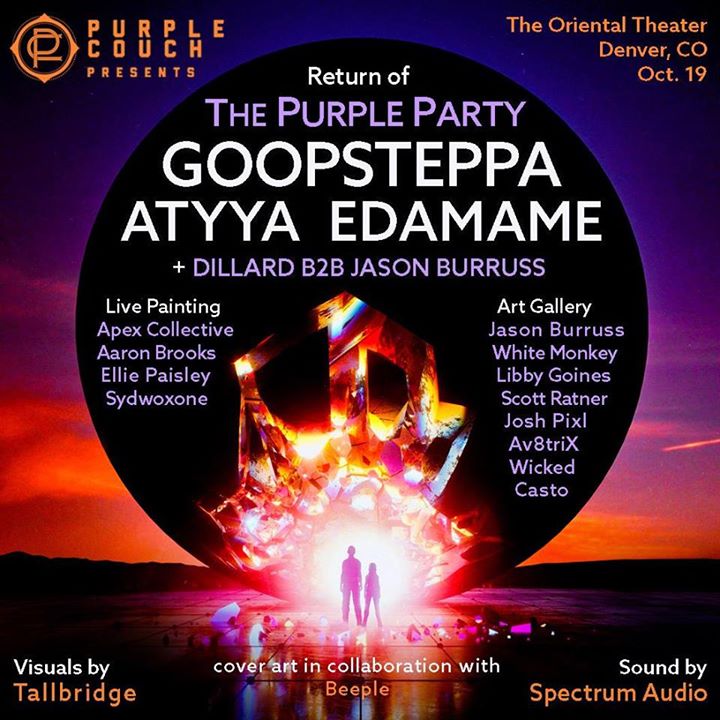 Purple Couch Denver Presents : The Return of the Purple Party
The Oriental Theater, Denver, CO
18+ with Photo ID
Music ~ Goopsteppa, AtYyA, Edamame, and Dillard B2B Jason Burruss
Sound ~ Spectrum Audio Entertainment
"Revisiting the vibes of our past in an awakened future of bass."
On Thursday, October 19th, led by Purple Couch's favorite team of auditory astronauts, guiding an incredible crew of artists, visuals and performances, we will launch the second edition of our renowned Purple Party!
To the 900+ people that came to our first Purple Party, let's do it all again, only this time with more future… <3
Auditory Futurists ~
Goopsteppa (BC, Canada)
http://www.goopsteppa.bandcamp.com
soundcloud.com/goopsteppa
goo.gl/j2q5gR
AtYyA (BC, Canada)
http://www.atyya.bandcamp.com
soundcloud.com/atyya
goo.gl/LuXuY2
Edamame (Loci Records, Chicago)
http://www.edamame.bandcamp.com
soundcloud.com/edamame
goo.gl/R7N9Kn
Dillard (Sub.Mission, Denver)
soundcloud.com/dillard
http://www.dillard.bandcamp.com/
goo.gl/RXcKjk
Jason Burruss (Purple Couch, Humboldt)
soundcloud.com/Jason-Burruss
goo.gl/SU4uJ8
Alchemical Artists ~
Jason Burruss Designs
http://www.instagram.com/jasonburruss
White Monkey
http://www.instagram.com/whitemonkeyglass
Libby Goines
http://www.instagram.com/libbygoines
Scott Ratner
http://www.instagram.com/scottratnerglass
Josh Pixl
http://www.instagram.com/pixlglass
Av8triX
http://www.instagram.com/lokiav8trix
Wicked
http://www.instagram.com/wickedglass
Casto
http://www.instagram.com/i.r.casto
Psy-Painters ~
APEX Collective
http://www.instagram.com/apex_collective
Aaron Brooks
http://www.instagram.com/abrooksart
Ellie Paisley Artwork
http://www.instagram.com/ellie.paisley
Sydwox
http://www.instagram.com/sydwoxone
Visualist Dreamer ~
Jason Takahashi aka tallbridge
http://www.instagram.com/tallbridge
Sponsors ~
Nomadic Movement
http://www.instagram.com/nomadic_movement
Fully Activated CBD
http://www.fullyactivated.net
Incredible Extracts
http://www.instagram.com/iloveincredibleextracts
Cut Edge Gems
http://www.instagram.com/cut_edge_gems
Stage Performers ~
The FluiD DruidS
Harperspective
Jason Burruss
Av8trix
Guardian
Chrystalline
Iman Alia
Fae BrianaMarie
Tickets for Space Travel ~
$20 Pre-sale, $25 DOS